In the picturesque city of Makurdi, the legacy of SKN Savings & Loans is as old as the town itself. For years, they stood as a pillar of traditional banking, known for their unwavering values and client trust. Yet, as the digital era swept across the financial landscape, they faced a profound choice – remain anchored to the past or seize the possibilities of the future.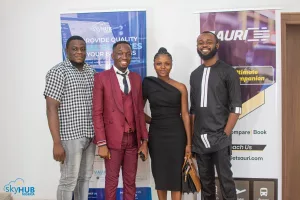 In their quest for innovation, SKN Savings & Loans turned to a trusted ally, SKYHub Nigeria. Together, they ventured into uncharted territory and embarked on a journey of digital transformation.
????
A Digital World at Their Fingertips:
The first milestone was the launch of a contemporary, user-friendly website. SKN clients now had access to online account management, effortless loan applications, and a treasure trove of financial resources.
????
The Rise of the Online Community:
SKYHub Nigeria engineered captivating online campaigns that resonated with audiences. SEO, Google Business Profile and social media posts on social media platforms delivered financial wisdom, investment insights, and updates on SKN's offerings. The response was overwhelming, and it reinforced SKN's identity as a trusted financial partner.
The transformation of SKN Savings & Loans was nothing short of spectacular. The financial institution witnessed a wave of new clients and depositors. Their loyal customer base, deeply rooted in the local community, expanded, and new clients joined from Makurdi and its surrounding areas. Clients now enjoyed the convenience and accessibility of digital services that redefined the way they interacted with the institution.
This is more than a story; it's a testament to the power of partnership and the boundless potential of innovation. SKN Savings & Loans, with the guiding hand of SKYHub Nigeria, bridged the gap between tradition and innovation. Our journey is a shining example of the remarkable outcomes achievable when the past meets the future in perfect harmony.